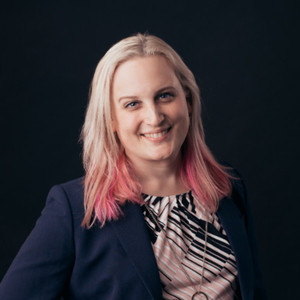 Jess Szmajda
Special guest
Jess Szmajda is currently a senior leader at AWS in the EC2 Networking organization. Previously she was the first female CTO of a major media organization, Axios, and before that the co-founder and CTO at Optoro, which helps top-tier retailers nationwide handle their returned and excess goods.
Jess got her start in tech in the '90s writing Perl to configure Solaris machines. Over the years she's contributed to Open Source and organized a number of communities, these days focusing on the DC Tech Slack and the DC-based Joy of Programming Meetup.
Outside of the tech world Jess is a singer-songwriter, an improviser, a gamer, a proud member of the LGBTQ+ community, and a mom to the most wonderful, Minecraft-obsessed 6 year old imaginable.
Jess Szmajda has been a guest on 1 episode.
May 5th, 2021 | 47 mins 24 secs

Jess Szmajda talks about the importance of using inclusive language, active listening, and metacognition: asking ourselves, "What are we not thinking about?" when it comes to diversity, equity, and inclusion.