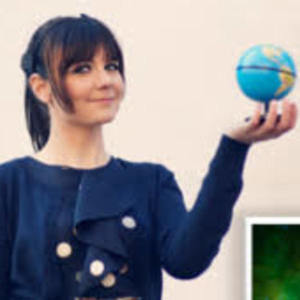 Ariel Waldman
Special guest
Ariel Waldman makes "massively multiplayer science", creating unusual collaborations that infuse serendipity into science and space exploration.
Ariel Waldman sits on the council for NASA Innovative Advanced Concepts, a program that nurtures radical, science-fiction-inspired ideas that could transform future space missions. She is the co-author of a congressionally-requested National Academy of Sciences report on the future of human spaceflight and the author of the book What's It Like in Space?: Stories from Astronauts Who've Been There. Ariel is the founder of Spacehack.org, a directory of ways for anyone to participate in space exploration, and the global director of Science Hack Day, a grassroots endeavor to prototype things with science that is now in over 25 countries. In 2013, Ariel received an honor from the White House for being a Champion of Change in citizen science. In 2018, she led a five-week expedition to Antarctica to explore the microscopic life beneath the ice, filming microbes living within glaciers, under the sea ice, and in subglacial ponds.
Previously, Ariel worked at NASA's CoLab program whose mission was to connect communities inside and outside NASA to collaborate. For the Obama White House, she authored a white paper on Democratized Science Instrumentation that was presented to the Office of Science and Technology Policy. Recently, she built Spaceprob.es, a catalog of the active spacecrafts that freckle our solar system. For her work on Science Hack Day, Ariel has been awarded grants from the Alfred P. Sloan Foundation and the Gordon and Betty Moore Foundation, as well as a fellowship at Institute For The Future.
Ariel is based in San Francisco but loves to travel internationally to speak to a variety of audiences and work on fun projects. She has appeared on Syfy and the Science Channel, as well as keynoted DARPA's 100 Year Starship Symposium and OSCON. Her work with Science Hack Day has taken her to Colombia, China, Kenya, Madagascar, Mexico, Russia and South Africa to help grow budding science enthusiast communities.
As an art school student without a formal science background, Ariel never anticipated that she would one day stumble into a gig at NASA. She grew up in Kansas where she worked at the interactive ad agency, VML, as a digital anthropologist, and attended art school at the Kansas City Art Institute. After her experience at NASA, her mission is now to enlighten others on how anyone can actively contribute to the furthering of science and space exploration in clever new ways.
Ariel Waldman has been a guest on 1 episode.
April 19th, 2017 | 1 hr 13 mins

Science technology, the influence of science fiction, machine learning, and congruency with guests Ariel Waldman, Ashe Dryden, and Brad Grzesiak.