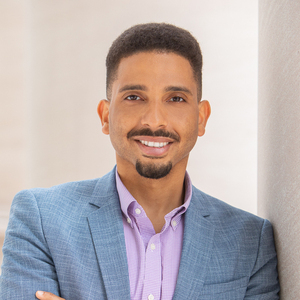 Adrian Gillem
Special guest
Adrian Gillem is a Technical Project Manager with Booz Allen Hamilton focused on deploying next generation digital transformation capabilities to public sector clients in Washington D.C., Honolulu, Tokyo, and Seoul. Beyond his technical client-responsibilities, Adrian's true passion is grounded in diversity, equity and inclusion program management and partnership building. Over the years, Adrian helped lead Booz Allen's LGBTQIA+ and African American Employee Resource Groups to new heights; instituting new internal and external partnerships and programs under a DEI strategy committed to representing and empowering our BIPOC, Queer, and Ally employees across the Firm.
Adrian Gillem has been a guest on 1 episode.
September 15th, 2021 | 49 mins 30 secs

Adrian Gillem introduces us to Employee Resource Groups (ERGs) and what they do, what their goals are, and how they operate. He gives an example of how his employer, Booz Allen Hamilton, has successfully implemented new policies surrounding transgender healthcare, and talks about how ERGs are only as strong as the management supporting them.